In the winter of 1873 Isabella Bird, a Victorian Englishwoman, journeyed through Turkey Creek Canyon alone, on horseback.  Undaunted by harsh weather, spartan accommodations, or her own safety, she exemplified the hardiness of early Colorado travelers.  Like others before her, she relied on herself and the animal that carried her.
Wave after wave of people surged across the West in the late 19th and early 20th century.  After gold was discovered in 1858 near Denver, men intent on finding their fortunes rushed to Colorado.  Placer claims in the waters of the plains were soon bettered by finds in the mountains upstream.  In 1859 George Jackson discovered substantial placer gold at Spanish Bar (Idaho Springs) and John Gregory found a gold-bearing vein near Black Hawk.  Prospectors and miners followed primitive routes up the mountain canyons on burros and on foot; some paths were old Indian trails. In the 1860's the rutted routes became toll roads leading to the gold fields of Idaho Springs, Central City, and Leadville. Byways developed through practically every foothills canyon: Coal Creek, Clear Creek, Golden Gate, Mt. Vernon, Bear Creek, Turkey Creek, and Deer Creek.
Some of those well-worn roads are still traveled today:
Mt. Vernon Toll Road was chartered as the Denver, Auraria, and Colorado Wagon Road in 1860.  It paralleled the I-70/ U.S. 40 corridor up Mt. Vernon/ Genessee hill to Bergen (Park,) through Post (Evergreen,) and out to Bradford Junction (Conifer.)
Denver, Bradford, and Blue River Road ran from Denver to the Bradford House (Ken Caryl) and over a steep hill before meeting and following South Turkey Creek Canyon southwest.  It converged with the Mt. Vernon Road at Bradford Junction to form a single route to South Park, Fairplay, and Leadville.
Denver, Auraria & South Park Wagon Road angled into the mountains south of Morrison through Phillipsburg (Deer Creek Canyon.) It was steep and narrow, a difficult path for wagons crossing the foothills.
Turkey Creek Toll Road, called the Denver, Turkey Creek, and South Park Road, roughly followed the route of Hwy 285 southwest along the creek, avoiding the arduous hills of other roads in that area.
Bear Creek Wagon Road followed Bear Creek from Morrison through Starbuck (Idledale) past Meyer's Saw Mill (Kittredge) to Post (Evergreen.) There were 14 or 15 bridges spanning the creek, which was often impassable due to flooding and washouts.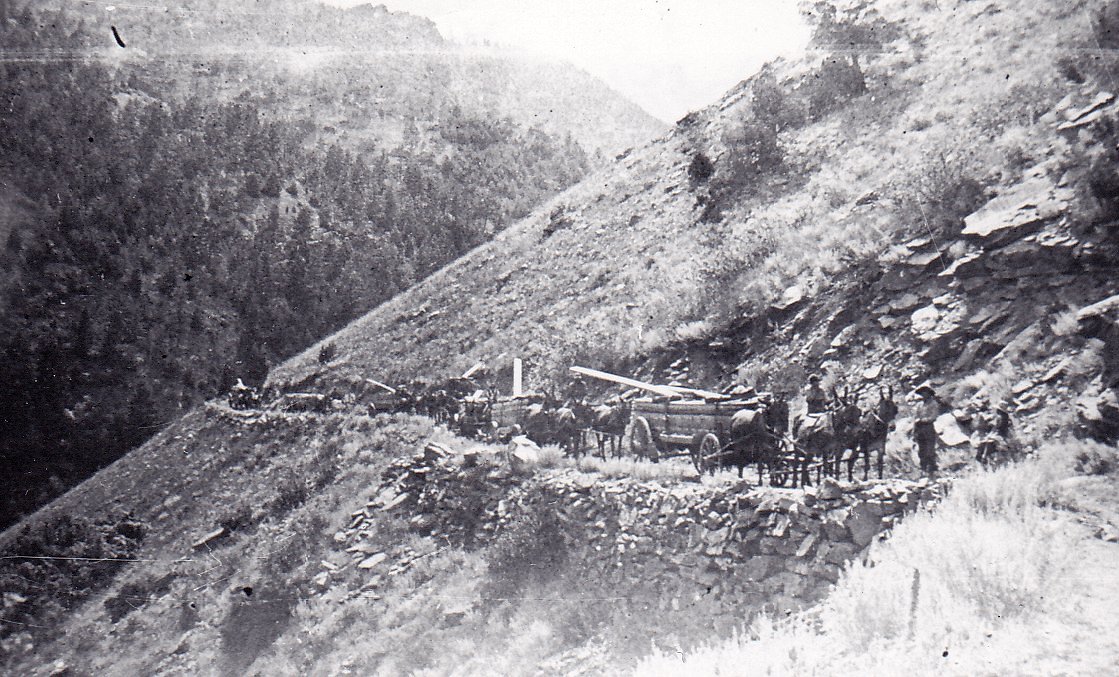 When this network of wagon roads crisscrossed the landscape, the animal powered wagon was the main vehicle for transporting goods and people.  Horses were hitched in teams to freight wagons pulling heavy loads of ore.  Known in the vernacular as spring wagons, box wagons, and farm wagons the early vehicles moved lumber and produce down to the city, a trip requiring several days of travel. On return the wagons were packed with staple supplies of flour, salt, coffee, sugar, and perhaps a bolt of sturdy cotton for dressmaking.  Pack mules and burros were used to carry people and supplies over rough terrain.  Because of their toughness, agility, and size, these beasts of burden were indispensable in mining operations.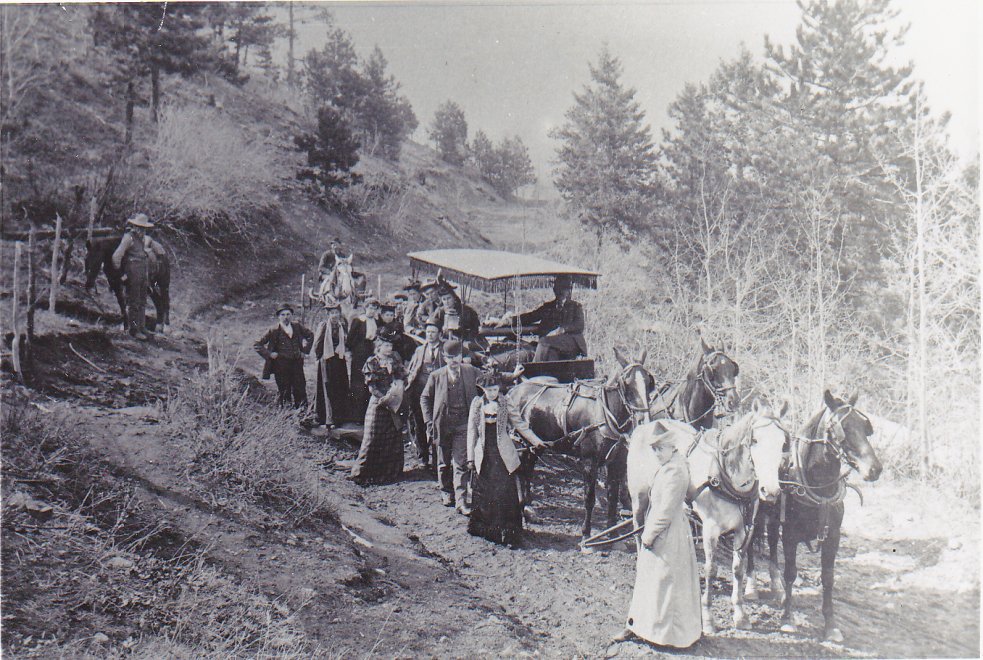 After the Homestead Act was passed in 1862 homesteaders settled in the state.  They journeyed for land, opportunity, and a better life.  Most of them were young; many came with families. They stopped in Colorado where the tall mountains met the sky and the land was rich with trees for building and creeks of rushing water. On the Front Range they grew hay, oats, barley, rye, potatoes and other vegetables for themselves and as a cash crop. Settlers like Thomas Bergen (of Bergen Park) made a living providing travelers with food and lodging, collecting tolls, repairing wagons, and trading horses and oxen.  When the intrepid Isabella Bird traversed the Colorado Front Range, riding astride in her split leg Hawaiian skirt, she accepted the hospitality of locals as she moved from place to place.
The land was good for harvesting and milling lumber from the thick mountain forests and raising cattle on high country meadows.  Those who were able to acquire enough land became ranchers.  Gov. John Evans, for example, had extensive holdings on Upper Bear Creek.  Here again it was the horse that enabled a cowboy to mend fence, rope strays, drive the herd to grazing pasture, and manage ranch livestock.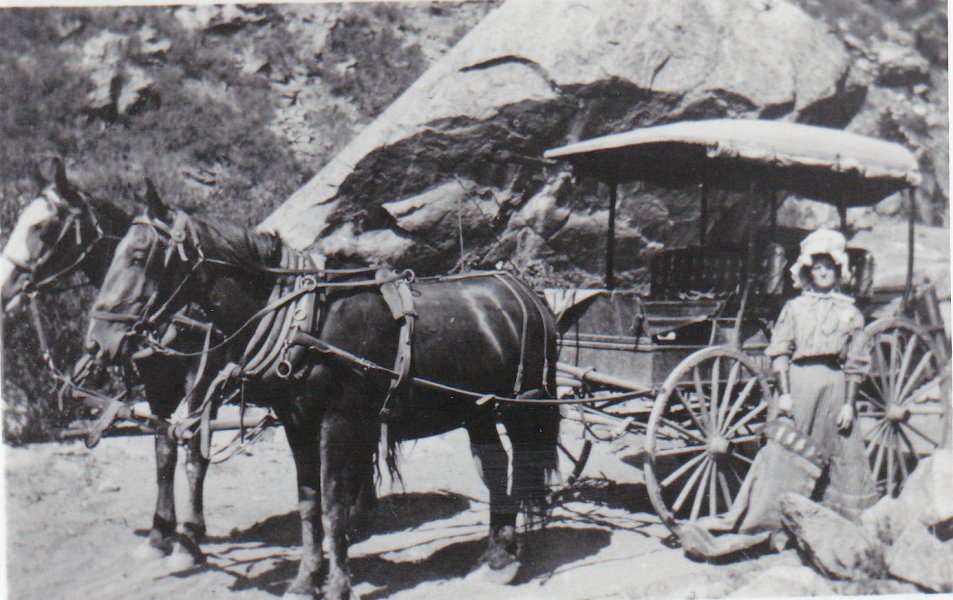 In the early days, stagecoach travel was a faster mode of transportation than wagons for individuals intent on a destination. Golden Gate stagecoach road over Guy Hill took passengers from Golden to Black Hawk and Central City.  The Turkey Creek Canyon route was handled in 1910 by a Joe Hawkins, who also doubled as a mail carrier.  In the 1880's Herbert Early drove the Morrison to Evergreen stage.  In 1916 Andy Jordan was a well-known driver on the Morrison, Evergreen, Troutdale, Marshdale, and Brook Forest line, which operated out of the Abbo & Lewis Livery & Stable.
After daily mail service was established on South Turkey Creek in 1895, Maggie Crow, wife of Postmaster William Crow, delivered mail armed with a revolver to protect herself from robbers. In 1906 Maggie and daughter Dora Crow took turns carrying mail on a two-horse stage.  They often broke their own trail through deep snow.  There was no free delivery; each patron on the route paid the mail carrier $.25 a month.  Other mail carriers in high country used snow shoes to deliver to remote locations.
Railroads arrived after the completion of the Transcontinental Railroad in 1869 at Promontory, Utah.  Though the Union Pacific bypassed Golden and routed its line through Wyoming to cross the Continental Divide, twenty five local railroads were proposed during the 1870's and eighteen during the 1880's.  Many of them never materialized, but several were important to the Jefferson County mountain region.
Colorado Central Railroad narrow gauge through Clear Creek Canyon followed an early wagon road. This line connecting Golden to Central City was started in 1872; by the turn of the century the Colorado & Southern Railroad took over the Clear Creek route.
Denver, South Park, and Pacific was another key narrow gauge railway, which carried freight from Denver through Platte Canyon to Kenosha Pass and on to South Park. Its branch line to Leadville was completed in 1880, and by 1900 DSP&P was acquired by the Colorado & Southern Railroad.  Passengers were transported to summer communities in Pine Grove and Buffalo Park; lumber and ice were cut along the North Fork and shipped back to Denver.
Denver & South Park Railway was built in 1874 from Denver to Morrison, partly for access to Gov. Evans' Evergreen Hotel there. It also transported building stone from the quarries to Denver. Though there were ideas of building the line up to Evergreen, that did not happen; the railroad was never extended beyond Morrison.
Denver, Northwestern & Pacific was built by David Moffat in 1902 through Coal Creek Canyon to cross the Continental Divide at Rollin's Pass. Coal and lumber was shipped from the western slope to the burgeoning city of Denver.
Isabella Bird may have been one of Colorado's first tourists, exploring the beauty of the mountains for the excitement of an adventure. By the late 1880's Denverites were traveling to the mountains for pleasure and to escape the summer heat on the plains. By 1900 the Morrison train also became the Colorado & Southern, an excursion train for Sunday picnics to Red Rocks and Loreli Park. Hebrew's string of burros provided rides for visitors after they debarked at the Morrison station.
After the turn of the century funicular railways were built to entertain visitors on day outings with the thrill of a ride straight up the mountain and a view at the top.  They operated on a cable with two open cars that seated from 20 – 100 people.  From the Mt. Morrison Cable Incline passengers looked down on the spectacular Red Rocks.  The Lookout Mountain Funicular was built in part to stir real estate interest in mountain property called "City on the Hill."  Castle Rock Scenic Railway at South Table Mt. in Golden had a dance pavilion and casino on top.
The advent of the automobile in the early 1900's made the mountains even more accessible.  J.B. Walker's vision of mountain parks was planned by F. L. Olmstead, Jr., supported by Denver's Mayor Speer, and passed by the voters in 1912.  Using convict labor "Good roads" were built up the canyons, and mountain parks such as Genesee, Fillius, O'Fallon and Corwina were born.  Lariat Trail (Lookout Mt. Road,) constructed by "Cement" Bill Williams, 1911-1914, brought the Lariat Loop into existence, a circle route from Golden to Bergen Park to Evergreen, down Bear Creek to Red Rocks Park, and back to Golden.  Bear Creek Canyon was lauded as a favorite area for picnics, camping, and fishing with its picturesque rippling waters and grassy nooks, protected by rocky canyon walls.  The Denver Motor Club built a beautiful clubhouse in Starbuck (Idledale) for those who were driving to the mountains in fancy new automobiles. Thomas Transfer Company's touring cars and motor coaches provided transportation up the canyon to Troutdale-in-the-Pines, Bendemeer, Brookvale, Marshdale Lodge, Brookforest Inn and other resorts.
It no longer took days or weeks to travel to a mountain destination. Advances in transportation made the journey faster and more comfortable. By the 1920's thousands of tourists were lured to the Colorado mountains.  Isabella Bird would not have been surprised.
*                *                      *
Previously published in Historically Jeffco, Volume 23, Issue 31, 2010
Photos courtesy of Evergreen Mountain Area Historical Society